Dear Traveler,

Of all the islands in the Philippines, Boracay island is probably the county's official island destination. Boracay has been featured in many MOST and BEST lists in international magazines and lifestyle and leisure surveys. Because of its powdery white sand beaches and surrounding islands and marine life, Boracay is sure to capture the heart of any island life lover.

When I set foot on the shores of Boracay, the first thing that came to mind was freedom. The unobstructed view of the sea, the wide expanse of space all white, blue , emerald green and all those colors that is refreshing to the eye suddenly makes it very clear that you are in paradise. Suddenly your mind is clear, your heart calm and all the worries of a place far from there is erased...at least for the mean time.

In Boracay the beauty of the surroundings does not keep you from the basic comforts of home. To some who can shell out a bit more, Boracay is home to some of the most luxurious hotels and properties. I would have to say that I hope they endeavor to make all these developments sustainable so as to maintain the beauty that brought people to Boracay in the first place.

Nowadays, people do not only go to Boracay to lie down on the beach. Tourists flock to Boracay for the many activities, hotels, parties, pastries that makes people come back for more.

Among the activities in the island are parasailing, Helmet dive, island hopping, banana boat, ATV ride, jetski, fly fish, glass bottom boat rides, sunset sailing, zorb, go cart, horse back riding.

D Mall and the D Talipapa as well as the many vendors along the beach is sure to delight shoppers.And for the foodies Kalamansi muffin and milky fruit shakes. Boracay also has the most happening parties along the beach sponsored by different organizations or hotels. Lets just say that Boracay knows how to make you happy.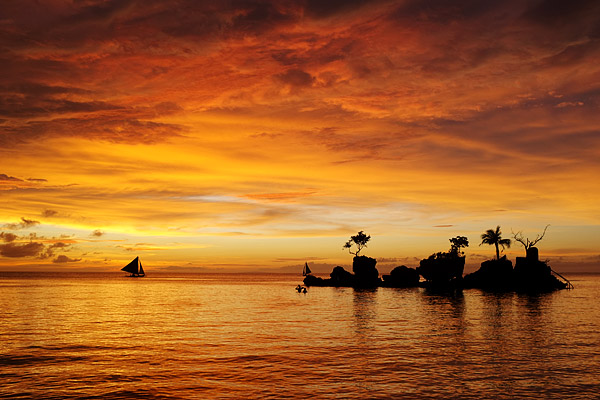 A witness to all these frenzy is the quiet beauty of its sunset, the calm waters that whispers their hello and gently touches your feet as you stroll along the shores. For every visitor, that one last look at the simple and silent beauty of this place encourages you to make a promise to be back.

Regards,

Check